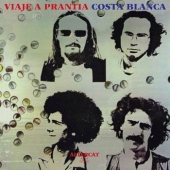 Costa Blanca
Viaje A Prantia
Label: Altercat
Genre: 60s / 70s Rock / Pop / Progressive / Kraut
Availability
CD Digi / Cardboard €14.99

In Stock
Other Formats
You know you're into something good when you open the album you just bought and find a lyrics sheet, then play it and quickly realise the record is actually instrumental. The unruliness that defined Costa Blanca's short-lived career resulted in such nonsensical contradictions, and helps understand why one of Spain's best jazz-rock bands of the 70s never had a proper breakthrough. Hailing from sun-bathed Alicante in the Spanish Levantine coast, Costa Blanca shared the stage with some of the country's best-known rock acts of the time, including Triana, Guadalquivir, Bloque or Coz, often receiving praise from fellow musicians and music critics alike. The band's sole LP takes the listener through a typical summer in the Mediterranean, from its blissful afternoons by the sea to galloping thunderstorms, and is reminiscent of some kind of Weather Report with a Mediterranean flair. Formed by four musicians of diverse musical backgrounds, the band members proved to be exceptionally skilled despite their limited experience, remarkably drummer Pedro Barceló who, aged just 17 at the time of recording, delivered an astonishing 9-minute solo and grew to become one of the most in-demand session musicians in Spain. Napi Carratalá's guitar makes sure his inclination for psychedelic rock doesn't go amiss and the imperturbable Chiki Navarret provides the funky bass lines that hold the band together, while the French saxophonist Alain Fabrizio blows the jazz influence, adding a bit of soulfulness into the blend. Partly because of the band's location away from the music industry centers of Barcelona and Madrid, and mainly because of the carelessness that surrounded the band's activities, the album failed to attract any commercial success and fell into oblivion, becoming today a highly collectable cult album and the only available memory anchor for those who saw them live. Done in full cooperation with all surviving band members, we're proud to bring you this reissue, with an 8-page booklet including bilingual (Spanish / English) liner notes and graphic memorabilia from the musicians' own archives, as well as a reproduction of the original lyrics sheet. "We were always stoned" seems to be the common memory of all Costa Blanca members. And that's probably the right way to listen to this album today -- by the sea, please.

* First ever reissue of highly collectable jazz-rock / fusion album from Spain.

* 8-page booklet with bilingual liner notes and photos from the musicians' archives, plus a reproduction of the original lyrics sheet.