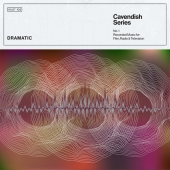 Scott John / Kinsey Tony
Cavendish Series Vol. 1
Label: King Underground Records
Genre: Freestyle / Nu Jazz / Funk / Afro
Availability
7" €16.99

Dispatched within 5-10 working days
Library Music experienced its heyday in the 60s and 70s, as thousands of instrumental tracks were produced by musicians and composers for the purpose of placements in radio, television, and film.
The first 45 of the to be released, classified as 'Dramatic' features tracks from both John Scott and Tony Kinsey. Titling was important to Library Music, because it needed to clearly represent the emotions being expressed through the music, so it was easy for television and film executives to find what they needed to complete their projects. John Scott wasted no time getting into the dramatics with the opening track "Milky Way", it displays the importance of grabbing a listener from the top, as well as being concise clocking in at just 47 seconds. Scott was not only a master composer, but also known for his work on the Saxophone, including playing on John Barry's soundtrack for 'Goldfinger' in the James Bond series.

The juxtaposition of Tony Kinsey's composition on the record offers a dynamic not present in the two tracks from Scott. Kinsey is more patient in his approach to "Kaleidoscope" building the tension with multiple movements and highlighting several instruments. The way the keys and bass play off each other leaves just enough room for a guitar lick to sneak in, as if it is hinting toward something.
In all there will be 8 individual 45s, licensed from Boosey & Hawkes & Cavendish Music Library and released by KingUnderground. Including compositions by Tony Kinsey, John Scott, Sam Fonteyn, Ray Davies, and more.