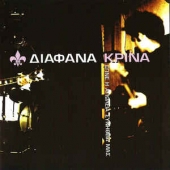 Diafana Krina
Egine H Apwleia Synhtheia Mas.
Label: Wipe Out / Mlk
Genre: Rock / Pop
Availability
LP x2 180gr €35.99

Out of Stock
Warehouse finds from the distributor! Last copies!

Ο πρώτος μεγάλος δίσκος του θρυλικού συγκροτήματος της δεκαετίας του '90 με 14 τραγούδια κυκλοφόρησε τον Ιούνιο του 1996.
Συγκερασμός επιρροών από ψυχεδέλεια, σκοτεινό ήχο των '80ς, τζαζ πινελιές, στίχοι-ποιήματα όλα μαζί σε έναν δίσκο, που καθιέρωσε ένα από τα κορυφαία συγκροτήματα της ελληνικής ροκ σκηνής.
25 χρόνια μετά την πρώτη του κυκλοφορία, η MLK και η WIPE OUT RECORDS επανεκδίδουν το ιστορικό άλμπουμ σε
ΕΙΔΙΚΗ ΣΥΛΛΕΚΤΙΚΗ ΕΚΔΟΣΗ ΔΙΠΛΟΥ ΒΙΝΥΛΙΟΥ 180 γρ.!