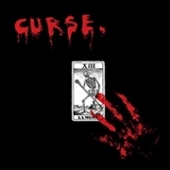 Legendary Pink Dots
Curse
Label: Metropolis
Genre: 80s Wave / Rock / Pop / Punk
Availability
CD €16.49

Dispatched within 5-10 working days
Curse' was intended as the Pink Dots' first official album, but a surprise request from a label to release the cassette album 'Brighter Now' on vinyl meant the proposed debut was delayed for a year. In the interim, many new songs were recorded, the line-up of the band changed and the entire complexion of the album changed drastically. It remains a favourite within the Dots' community to this day.

1983's Curse marks an intersection of styles and influences that form the Legendary Pink Dots sound: a deft balance between pop arrangements and sonic experiments, ornamented imagery, somber double-entendres, Gothic yet witty arrangements, experimentalism, and psychedelics.

Curse rises as an artistically successful turning point to the beginnings of the era of the Dots' best '80s releases.

Fully remastered. includes 5 bonus tracks.