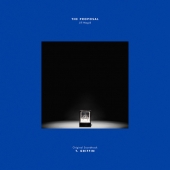 Griffin T.
The Proposal
Label: Constellation
Genre: Soundtrack
Availability
LP 180GR +MP3 COUPON €25.99

In Stock
The original score for the acclaimed feature-length artworld documentary by multi-disciplinary artist Jill Magid: an exploration of the contested legacy of the Mexican architect Luis Barragán and an art intervention in its own right. Griffin wrote, performed and recorded The Proposal soundtrack with an understated but wide-ranging electro-acoustic sensibility that organically compliments the film's enigmatic narrative and the discreet beauty of Barragán's architectural spaces. Various acoustic instruments combine with electronics, sampling and ambient treatments for an ever-shifting suite of musical vignettes across the album's thirteen tracks.

Guest musicians include Matana Roberts, Reut Regev, Jim White (Xylouris White, The Dirty Three), Jason Ajemian (Helado Negro), and Sophie Trudeau and Timothy Herzog (Godspeed You! Black Emperor) – alongside Griffin's own contributions on multiple instruments, field recordings and production. Griffin weaves an iridescent musical tapestry, threading various genres with sublime thematic and atmospheric coherence, echoing Magid's contemplative, cerebral journey. The music also works enchantingly on its own as a subtly haunted, evocative and meditative album.
Hand-numbered vinyl edition of 500 copies is 180gramLP in window-cut artboard jacket that frames eight different images from Magid's The Barragán Archives project, printed on four 12"x12" art card inserts including an artworked inner sleeve.