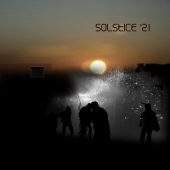 Various Artists
Solstice '21
Label: Subexotic
Genre: Electronica / Ambient / Experimental
Solstice '21 sees twelve bright lights of independent electronic music mark the coming Summer Solstice. In such dark days, the age-old practice of celebrating the move from shadow to light, feels steeped in a renewed symbolic power. Solstice '21 marks this significant moment with a rich array of musical offerings. Reflective, lively, and always powerful, this collection is spun with modern twists of an ancient thread.

Track list: 1. An Introduction to Intention - Rotator 2. Yesterday's Sun - Letters from Mouse 3. Sustainer -Cubcub 4. The Scouring of the White Horse - Orbury Common5. Throbbing Motor Lifeforms - Onepointwo 6. Heralding The Dawn - Giants of Discovery 7. Sage - Wonderful Beasts 8. And They Named Him 'When The Sun Stands Still' - Dogs versus Shadow 9. All Of Us, Under The Sun - Counter Silence 10. Midsummer men - Transient Visitor 11. The Sun-Stone - Simon Klee) 12. First Rays Of The Summer Sun - Rupert Lally

Yellow orange sunburst vinyl.