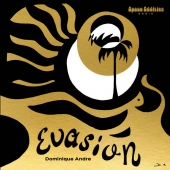 Andre Dominique
Evasion ( Space Oddities )
Label: Born Bad
Genre: 80s Wave / Rock / Pop / Punk
Availability
LP €19.99

Dispatched within 5-10 working days
A whole world of escape.

The Amateur (someone who engages in painting, music, sport, science, without the spirit of mastery or competition), the Amateur renews his pleasure (amator: one who loves and loves again); he is anything but a hero (of creation, or performance); he establishes himself graciously (for nothing) in the signifier: in the immediately definitive substance of music, of painting, he is – he will be perhaps – the counter-bourgeois artist.

In Roland Barthes by Roland Barthes (1975)

And this is what sometimes went on in the mid-seventies of the last century. Dominique André is in his studio-apartment, a converted maid's room on Avenue Junot in Paris. In front of his Revox tape recorder, which can record two tracks separately, is a motley collection of instruments: a children's organ, a cooking pot, a guitar, a frying pan and various other everyday objects to be rubbed, banged together and gently beaten. On either side of the recorder, an upright piano, a stack of film sound effects records and a vinyl turntable sit waiting. Dominique André turns one of the potentiometers of his Revox machine to the left, and the tape slows down, the continuum loses its flow, and we go back in time.

He is now with his grandmother Elvira. She's hurrying along the pavements of the Montparnasse district because she's late. An Italian artist friend of hers, Amedeo, is waiting for her to pose. We can't know whether Modigliani was one of those artists who got offended and impatient, or whether, as a traveller of his time and space, he was familiar with the turpitudes of modern life and understood them. What we do know is that the piece would be created, just as Auguste Rodin's pieces would be created with the same model. Around the same time, but later in the day, it's time to meet Kiki again in the great hall of La Coupole and to order a Suze with two ice cubes and a sweet lemonade. Pablo might drop by out of the blue, as ever, to tell us about the fever of his new conquests, some of which will undoubtedly be pictorial. The excitement! The artistic ferment! But amid all this bohemia, it's hard to tell whether little Dominique has anything much to shout about at the time. He looks up at the ceiling, painted by his grandfather Pierre, and finds a muse, a nymph, the image of his grandmother, and of his mother. It's not easy to escape.

The worn rubber pinch rollers of the tape recorder sometimes cause the tape to slip and get stuck, mixing the timelines, the memories aggregating into possibilities that never really existed. But the legend, even chewed up and spat out, is often worth more, in print, than the reality. This much we do know.

Still running, the machine reads the past, again, and so here we have Dominique, now a student at the School of Decorative Arts in Paris. His father teaches there as a painter-tapestry cartoon maker, an artistic profession in which he is very well known. The son gets bored and leaves. And this could perhaps be the turning point in young André's life, when he decides to set off for six months in the Camargue to work as a mounted herdsman; when after the day's work, he joins his gypsy friends met in some shady tavern; when on the beach, around a fire which doesn't quite make up for the heat lost in the setting sun, Ricardo Baliardo teaches him the rudiments of guitar playing. Ricardo would later be called Little Silver Hands, and develop a career and a reputation in flamenco, but we can't say whether the Revox knows this because it doesn't say so.

Or should we consider the turning point in Dominique André's life to be when he took his first steps in producing film sets. He was a trainee at the time, on the set of the film The Million Dollar Tattoo, by Denys de la Patellière. There he met Louis de Funès, but above all Jean Gabin, then at the height of his glory. The scenario, quite a balancing act as it was written day by day, involves a former legionnaire (Gabin) having his portrait done in the studio of a lesser-known painter. The aspiring production designer is tasked with painting this parody of a work representing the illustrious actor. He takes the job seriously, portraying old Jean as he sees him every day. But the actor likes to knock back the drinks and has taken a bit of a knocking himself. His famous blue eyes now have red rings under them, to match the sclera. Dominique is anxious and perplexed. Portraiture is a tricky business. It's the kind of dilemma you don't learn to solve at art school. On the advice of a more experienced colleague, he opts for the fresh blue of youth. Gabin, an austere pasha surrounded by his court, is delighted; he personally congratulates the artist on the likeness of the portrait, thus bestowing favour on his future career. The fact that the plot of the film is about a coveting a tattoo by Modigliani that Gabin wears on his back is a trick of fate rather than another slip of the tape. At least, we hope so.

Then, in a glorious career as a production designer, came collaborations, sometimes friendships, with Claude Sautet, Pierre Granier-Deferre, Samuel Fuller, Georges Lautner, Andrzej Zulawski, Gérard Oury, Philippe de Brocca or Francis Veber. Dominique is the one who finds solutions, the one who makes everything look easy, the one who adapts to the craziest requests, the most demanding constraints. Sometimes, the production relationships are reversed and when faced with the ingenuity of the set, it is the director who adapts and improvises with new staging. The man is even said to have worked for the master Sergio Leone on Once Upon a Time in America on perspectives that were inexistent. This small world of people lived as a team, as a family, meeting from shoot to shoot, keeping warm when it was cold outside. And soon Lino Ventura, Yves Montand and Simone Signoret became close friends. She taught him how to drink beer on location in Belgium. She knew her subject well and worked hard on it.

And then came Clara et les Chics Types, Tir Groupé, Strange Affair, Waiter!, Femmes de personne, L'Homme aux yeux d'argent, A Bad Son, Love in the Strangest Way, Mad Love, Happy Easter and even La Dernière bourrée à Paris, amongst many others.

At this time, as well as later in the future and back in the past, Dominique André once more finds himself alone in the small flat which also serves as his recording studio (unless it's the other way around), where, with his odds and ends and his wonderful naivety, he prepares a new motionless journey, a new musical landscape. Alone, to find himself again after long months of working as a team; alone because that's how you can glide more easily from one world to another; alone to thin out the inner exoticism; alone to be sure that the music will be unique, reproducible only on physical media and never in concert; alone to improvise, to drift, layer by layer on media that is still magnetic, already digital, when we find him in retirement, living in his house in the countryside of the Yvelines, surrounded by fields, with his dogs, a cigar stub in his mouth, still handsome, with mid-length grey hair, not thinking back to the five hundred hours of recorded music, but looking forward to those to come; alone, because that is how the freedom of amateur instinct is best revealed.

Dominique André received a commission from France Musique, created a film soundtrack and published a single vinyl record (reissued here) that went unnoticed having been released as "library music". Despite all this, his daily passion remains confidential, personal, even intimate, out of modesty, but above all out of indulgence, like when, hiding by yourself at the back of the cupboard, you stick your finger into the jar of jam and know that sharing goes on elsewhere.

On either side of the Revox potentiometer rotation curve, the tape no longer knowing which timeline to turn to, his family listens, admiring and incredulous at so many self-taught adventures, such amateur brilliance. And his other grandmother, a virtuoso pianist who accompanied the first black jazz orchestras in France, as well as his son, first violin in the Paris Orchestra, both marvel, uncomprehending. In doing so, they offer a possible definition of true experimental beauty, which is somewhat misunderstood, and timeless.

Finally, a last door opens, and in the next room, for a long time now, the experiments continue, always amateur, always enlightened. And the forms, the colours, developed in parallel in Dominique André's painting, cannot be described in the present narrative, which has to be brief, because only then will its form be relevant.