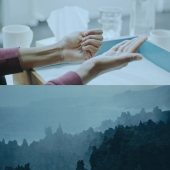 Cupples Aaron
Island Of The Hungry Ghosts
Label: Pan
Genre: Soundtrack
Availability
LP €24.99

Dispatched within 5-10 working days
Island of the Hungry Ghosts is a hybrid documentary that moves between the natural, human and spiritual worlds. Located off the coast of Indonesia, the Australian territory of Christmas Island is inhabited by migratory crabs travelling in their millions from the jungle towards the ocean, in a movement that has been provoked by the full moon for hundreds of thousands of years. Poh Lin Lee is a trauma therapist who lives with her family in this seemingly idyllic paradise. Every day, she talks with the asylum seekers held indefinitely in a high-security detention centre hidden in the island's core, attempting to support them in a situation that is as unbearable as its outcome is uncertain. As Poh Lin and her family explore the island's beautiful yet threatening landscape, the local islanders carry out their "hungry ghost" rituals for the spirits of those who died on the island without a burial. They make offerings to appease the lost souls who are said to be wandering the jungles at night looking for home.

This album presents the original score Aaron Cupples created for the film. Rich in texture and harmonics, the music is characterized by the bespoke instruments and recording techniques employed in its creation. The soundtrack also features sound recordist Leo Dolgan's vivid field recordings. All captured on Christmas Island, the four pieces recall insect choruses, strange and ominous bird calls, erupting blowholes, fire, ocean, and Buddhist prayers for the dead.

"Drawing on discussions with director Gabrielle Brady, I began to perceive the island itself as the protagonist, with its own ancient rhythms and cycles set against the transitory human stories it endures. It was my intention to give voice to the island through the score. Imagining what this might sound like, emanating from deep within the landscape, I settled on a handmade long-string instrument. This single 13-foot long wire was tuned, bowed, and electromagnetically oscillated to create slowly evolving textures and deep layers of resonance. From this foundation, the score introduces rhythm inspired by traditional Chinese festival drumming and chanting of Buddhist nuns recorded on Christmas Island by sound recordist Leo Dolgan. Working closely with him, the score is intentionally kept dark in timbre to allow a merging with the intricate nature recordings, which often play simultaneously with the score. Here on this album, we present the music and field recordings separately to allow them to be appreciated unaccompanied in their individual form. As the film's narrative unfolds, harmonic movement and finally melody emerge, bringing a theme to the human stories. Their life rhythms and cycles interwoven with those of the island." - Aaron Cupples

The album is mastered by Rashad Becker, featuring design by N MRE 08.