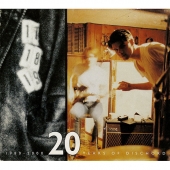 Various Artists
20 Years Of Dischord (1980-2000)
Label: Dischord
Genre: 80s Wave / Rock / Pop / Punk
Availability
CD x3 BOX €19.99

Dispatched within 5-10 working days
- 2 CD's with previously released Dischord material.
- 1 CD with unreleased tracks and 6 live video clips (by: The Teen Idles, Untouchables, S.O.A., Faith, Void, and Deadline).
- a 134-page booklet with info about all the bands featured on this release, a brief historic review of Dischord and loads of photos.