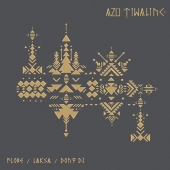 Tiwaline Azu
Draw Me A Silence Remixes ( Flore, Laksa, Don't Dj )
Label: Iot Records
Genre: Electronica / Ambient / Experimental
Availability
12" €12.99

Dispatched within 5-10 working days
The first Azu Tiwaline's album, after been acclaimed by DJs like Lena Willikens, upsammy, Shanti Celeste and a bunch of electronic medias (Bandcamp, RA, Crack), is now remixed by a Lyon-Bristol-Berlin trifecta of similarly minded rhythmic innovators - twisting and warping her work into new shapes, featuring Don't DJ, Laksa & Flore reinterpretations.

Nothing happens overnight. Behind every emergence, there's years of work, thought and preparation - both intentional and unconscious - that's gone unseen.

So the past year might have been a 'breakout' year for Azu Tiwaline, but it was really built over two decades of experimentation, soul-searching - both creative and personal - and exploration. "A new name for a new spirit" as she likes to say, but with an unmistakable identity rooted in her history and ancestry.

On her debut album as Azu Tiwaline, Draw Me A Silence, a record released in two parts with her family at I.O.T. , she fused together two halves of her own heritage, inspired by a new home in the desert. Personal history collided with family heritage: half step rhythms from a career in bass music met the warm winds and wide open silence of El Djerid in Tunisia.

When music is sincere and honest, it tends to reverberate more widely, and deeply. The tracks written for the Magnetic Service EP were sent to one label and one label only, Livity Sound, who picked it up instantly. Something about the spacious, yet dense sonics - crafted with the help of percussionist Cinna Peyghamy - resonated with listeners starved of both the community of the dancefloor and the space of the outside world. The EP became one of the Bristol label's most heralded releases of 2020, featuring in end of year coverage from Bandcamp to Resident Advisor.

Beneath the calm of her productions, a restless spirit inhabits Azu, born out of months and years spent on the road. In 2020, it was her music that took her places. She put together a series of podcast mixes that echoed the percussive, rhythmic curves of her own productions, for Boiler Room, Dekmantel and Crack Mag. She distilled Fazer Drums' percussive experiments into dubby downtempo with a remix, and contributed her most rooted track yet - Violet Curves with Cinna Peyghamy - to On the Corner's Door to The Cosmos compilation.