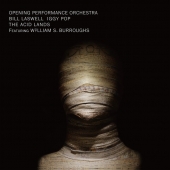 Laswell Bill / Opening Performance Orchestra / Pop Iggy / Burroughs William S.
The Acid Lands
Label: Sub Rosa
Genre: Electronica / Ambient / Experimental
The Acid Lands, created by the Prague-based Opening Performance Orchestra, was first heard in public in 2014 at the Movement-Sound-Space festival in Ostrava, to mark the centenary of
William S. Burroughs's birth. The piece was performed live by Opening Performance Orchestra and their guests, the theremin player Martina Potucková, and the poet, musician and performer Pavel Z as the narrator.

The studio version of The Acid Lands was made in late 2019/early 2020 in collaboration with Bill Laswell and Iggy Pop, who undertook the role of the narrator. The piece, which pays tribute to
William S. Burroughs, features fragments from the novels The Western Lands and Junkie. In addition to the title composition, The Acid Lands, the record contains Bill Laswell's instrumental remix, as well as the collective piece Naming Seven Souls, featuring samples of William S. Burroughs reading his own work.