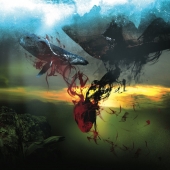 A Storm Of Light
And We Kept The Black Ocean Within - Vinyl Reprint
Label: Neurot
Genre: Stoner / Post Metal / Industrial Rock
Amospheric sludge with post-rock and ambient elements essential for fans of Neurosis/Isis/Red Sparowes.

The debut release from Brooklyn, NY trio A Storm of Light is anything but posthumous. However, within its murky, suffocating depths there lies little certainty about the origin and veracity of the words bellowed by guitarist Josh Graham (also Neurosis visual director, Blood and Time, Battle of Mice and formerly of Red Sparowes) as mouthpiece of the album's protagonist.

And We Wept the Black Ocean Within moves in versicle form between the voice and instruments. The result is an album densely packed with suspense, tension and eruptive release.

Suffice to say, the debut of A Storm of Light is a truly suspenseful and captivating work that bears nearly as much to do with masterful cinema and literature as it does with the type of monolithic and epic sounds of its musical progenitors.