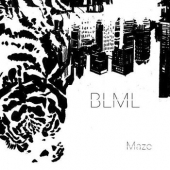 Blml ( Blackmail )
Maze
Label: Sound Effect
Genre: Rock / Pop
BLML are the long standing, personal, vehicle for George Karanikolas (guitarist and founding member of The Last Drive and "father-figure" of Omegaray). "Maze" is their 6th release, following up from 2015's "Panopticon", and a vivid proof of Karanikolas' great balance between maturity and spontaneity! Packed with some strong songwriting (and even a T Rex cover!) and a rock-solid performance/production, "Maze" bustles with emotions, carved on a highly "cinematic" canvas, lyrical, dynamic, and overtly dramatic in its own 'outhereness'.

BLML's music owes to such diverse stylings such as post-punk, glam-rock and grunge, though in the core of George Karanikolas's songwriting someone can also trace the blues, psych and NYC-punk, as the main forces defining his muse. "Maze" is his primary masterpiece; BLML's most accomplished and most moving album to date.

With a unique artwork inspired by late 19th century Japanese art, created by NYC artist Dani, "Maze" will be out on vinyl and CD in early December 2020 by Sound Effect Records. An extremely limited, numbered vinyl edition shall also be available on mail-order only, with a silk-screen printed cover and color vinyl.

BLML says: "Reaching the end of the recording, while mixing "Trigger & Pain" - that was 2 days before the lockdown - thinking how cool is being so possessed and, above all, being able to capture something that starts as a hint. It is the surprise you always keep to one's own self. Having spent almost a year in the studio, which by itself is some kind of lockdown, though not an adjuratory one, and with a new band member, Yiorgos Zach, we felt how precious is to choose the time and place of it, "Plasma Rocket", the album's opening track, serving as an example. In the course of the recording, awkwardness shifted into persistence and affection ("Falling To Pieces"), while, working with exactly the same crew as with "Gift" (BLML's fourth) and with friend Dani pushing the boundaries further with her artwork, we saw the songs from another point. And "Maze" became a breathing entity..."