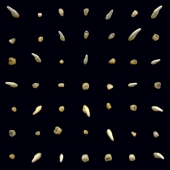 Clipping
Visions Of Bodies Being Burned
Label: Sub Pop
Genre: Hip-Hop
Availability
LP x2 +MP3 COUPON €29.99

Dispatched within 5-10 working days
In the horror genre, sequels are perfunctory. As the insufferable film bro Randy explains in Scream 2, "There are certain rules that one must abide by in order to create a successful sequel. Number one: the body count is always bigger. Number two: the death scenes are always much more elaborate—more blood, more gore. Carnage candy. And number three: never, ever, under any circumstances, assume the killer is dead." Last Halloween, Los Angeles experimental rap mainstays Clipping ended their three-year silence with the horrorcore-inspired album There Existed an Addiction to Blood. This October, rapper Daveed Diggs, and producers Jonathan Snipes and William Hutson return with an even higher body count, more elaborate kills, and monsters that just won't stay dead.

Visions of Bodies Being Burned is less a sequel than it is the second half of a planned diptych. It turns out, Clipping took to the thematic material of horrorcore like vampires to grave soil. Before the release of There Existed an Addiction to Blood, Clipping and Sub Pop Records divided the material up into two albums, designed to be released only months apart. However, a global pandemic and multiple canceled tours pushed the release of the project's "part two" until the following Halloween season.

Visions of Bodies Being Burned contains sixteen more scary stories disguised as rap songs, incorporating as much influence from Ernest Dickerson, Clive Barker, and Shirley Jackson as it does from Three 6 Mafia, Bone Thugs-N-Harmony, and Brotha Lynch Hung. Clipping's angular, shattered interpretations of existing musical styles are always deferential, driven by fandom for the object of study rather than disdain for it. Clipping reimagine horrorcore—the purposely absurdist hip-hop subgenre that flourished in the 1990s—the way Jordan Peele does horror cinema: by twisting beloved tropes to make explicit their own radical politics of monstrosity, fear, and the uncanny.

The album features a host of collaborators: Inglewood's Cam & China, fellow noise-rap pioneers Ho99o9, Tortoise guitar genius Jeff Parker, and experimental LA drummer Ted Byrnes. The final track, "Secret Piece," is a performance of a Yoko Ono text score from 1953 that instructs the players to "Decide on one note that you want to play/Play it with the following accompaniment: the woods from 5am to 8am in summer," and features nearly all of the musicians who appeared on both albums.

Since their last album, Daveed Diggs—the group's Tony and Grammy Award-winning rapper—has starred in the TNT science fiction series, Snowpiercer, voiced a character in Pixar's Soul, and portrayed Frederick Douglass in Showtime's The Good Lord Bird. Writer Rivers Solomon's novella based on Clipping's Hugo-nominated song "The Deep" has been nominated for the Nebula, Hugo, and Locus Awards, and won the Lambda Literary Award for best LGBTQ SF/Fantasy/Horror novel. Clipping's song "Chapter 319"—a tribute to George Floyd (AKA Big Floyd) the former DJ-Screw affiliated rapper who was murdered by police officers in May of 2020—was released on Bandcamp on June 19th and raised over $20,000 for racial justice charities. A clip of the song also became a popular meme on TikTok, generating over 50,000 videos in which teenagers rapped the song's lyrics ("Donald Trump is a white supremacist, full stop…") directly into the frowning faces of their conservative parents. The band also contributed a Skinny Puppy-esque rework of J-Kwon's "Tipsy" to Save Stereogum: An '00s Covers Comp.

Loser edition, gold vinyl.