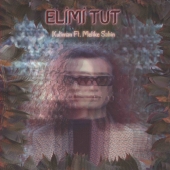 Kutiman Featuring Sahin Melike
Lmi Tut ( Hold My Hand )
Label: Siyal Music
Genre: Freestyle / Nu Jazz / Funk / Afro
Availability
7" €11.49

Dispatched within 5-10 working days
Following their sublime 2019 collaboration, "Sakla Beni", production king Kutiman and Turkish songstress Melike Sahin reunite on Anatolian psych anthem, "Elmi Tut (Hold My Hand)". And a simple revival this is not. The Turkish & Middle Eastern psych sound of Erkin Koray, Baris Manco, Selda Bağcan, Omar Khorshid & Aris San is brought bang up to date with swathes of hallucinatory synths, filtered basslines, hard-as-nail drum breaks and Kutiman's magic touch.

Having met in Istanbul in 2017, Şahin and Kutiman rapidly developed a beautiful chemistry. Şahin's striking voice inspired Kutiman to create a genuine yet modern Anatolian psych sound and the resulting 2019 single, "Sakla Beni", became a global hit, championed by BBC Radio 6 Music's Lauren Laverne. Meanwhile, the modern Anatolian sounds of bands such as the Netherlands-based Altın Gün and the contemporary Middle Eastern-influenced psych of Khruangbin, have taken the world by storm. Kutiman and Şahin's follow-up is destined to win even more hearts!

About Kutiman & Melike Sahin

Israeli-born Ophir Kutiel, aka Kutiman, is a composer, producer, multi-instrumentalist and video-artist, famed for his heavy modern grooves and online, video-based music projects. Fluent in multiple instruments since childhood, Kutiel's musical passions evolved from jazz to reggae, afrobeat, funk and psych from all around the world. His 2009 "Thru You" online music video, built entirely from samples of YouTube videos was soon viewed 10 million times, turning Kutiman into a Guggenheim-commissioned, household name. His recent album 'Wachaga' was highly lauded by the likes of Uncut, Sunday Times and BBC 6Music.

Hailing from Istanbul, Melike Şahin came to prominence as a member of cult Turkish psychedelic band BaBa ZuLa, with whom she toured over 40 countries. Described as "Turkey's most beloved alternative music purveyors", they collaborated with Mad Professor, CAN's Jaki Liebezeit and Sly & Robbie. Launching her solo career three years ago, she has worked closely with venerated film director, Tony Gatlif, recording songs for 'Djam', and performed at the Cannes Film Festival for its world premiere. Şahin has scored a number of national hits with Sony Turkey and is working on her debut album.