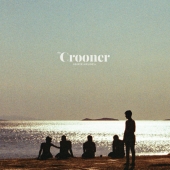 Crooner
Heaven Airlines +
Label: Make Me Happy
Genre: Rock / Pop
The tracks of the first side comprised the original Heaven Airlines CD, in this exact sequence. starting with Billy Liar, a song that had originally been written for the Crooner's band One Night Suzan, and ending with Kiss the Sky. This mini-album also featured a remixed version of Over the Rainbow which is not included here. Heaven Airlines was one of the first releases of the well-known American label SHELFLIFE RECORDS, back in 1998.
As for the second side, Moody, Tomorrow's Dreams and Perfect Pop for A Perfect Summer were included in the Japanese version of Heaven Airlines, released by VICTOR ENTERTAINMENT in 1999. This is the first time they are released outside Japan. The rest of the tracks have been included in various CD compilations around the globe, as well as in the Philippines version of Heaven Airlines, released by UNIVERSAL in 2000.
All in all, 10 out of the 12 tracks included in HEAVEN AIRLINES+ have never been released on vinyl before!