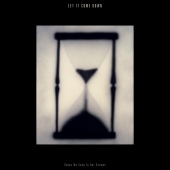 Let It Come Down
Songs We Sang In Our Dreams
Label: Shimmy Disc
Genre: Post Rock / Avant Rock
Availability
LP €24.99

Dispatched within 5-10 working days
Let It Come Down has been percolating in Kramer's mind for over two decades. Nearly 22 years after the doors of his infamous SHIMMY-DISC label were shuttered, Let It Come Down's debut album, Songs We Sang In Our Dreams, marks the return of one of the 20th century's seminal NYC indie labels. It is also Kramer's first one-on-one collaboration since Bongwater circled the drain 30 years ago. The songs and soundscapes comprised here are drawn from the amaranthine pools drifting below the subconscious, with the focus brightly primed upon uncoiling the curling shadows that lie between.

Initially conceived as a studio-only, one-man-band called TIME, everything changed in 2016, when Kramer met vocalist Xan Tyler (Mad Professor/Mission Control, Technique, Orinoko, GlassHouse). After producing an EP for her in Scotland, Kramer invited Tyler to be the human voice of his new recording project. "I'd been hearing Xan's voice in my dreams for decades, so you can imagine the shock I experienced when I first heard her voice while awake," said Kramer. "I invited her to work with me on an LP of songs I'd been working on for a long, long time." The results are ethereal, combining the most introspective songwriting of Kramer's career with luminous vocal performances from Xan Tyler. The project's aesthetic fulcrum is the question of time itself, with songs that balance the reckonings of loss, longing, and love, and articulate the quivering retreat into dreams, where the soul does its most vital work. Reflects Kramer: "Xan's voice is the birthplace of the origin story for each and every song. Individually, these songs and their accompanying interludes are the literal translation of my observances of these dreams as they drifted together. This album is the unabridged audio archive of their awakenings."

Songs We Sang In Our Dreams beckons like a drug, holding our feet to the flames of the universal loss felt by all in these most troubling times. What should we have done to prevent what is now unfolding before us, and what can we do about it now? Is it simply love we feel collapsing all around us, or is it the physical world itself? Songs We Sang In Our Dreams was produced by Kramer at his home studio in Florida, as well as various mobile locations around Edinburgh and Amsterdam, over the course of two years. The album was mixed in San Antonio, Texas, using the same Universal Audio '610' console on which Brian Wilson created SMILE, and LOVE created Forever Changes. The album cover is a painting by world-renowned artist Ed Ruscha, a living icon of the 1960's Art revolution that transformed the world. Now 82 years of age, Ruscha's name is synonymous with the Pop-Art movement. Gracing the back cover is an image from esteemed documentary and street photographer William Gedney. Fans of Kramer's most recent solo work on John Zorn's Tzadik Records as well as his extensive scroll of production work for artists like Galaxie 500, Low, and Daniel Johnston will lose themselves in the shadowy labyrinths of Let It Come Down's Songs We Sang In Our Dreams.