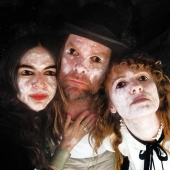 Thor & Friends
4
Label: Joyful Noise
Genre: Post Rock / Avant Rock
Availability
LP + MP3 COUPON €24.99

Dispatched within 5-10 working days
Polymath percussionist Thor Harris inaugurated Thor & Friends in the autumn of 2015 after five years of touring as the percussionist of iconic avant-rock ensemble Swans. The project is intended as a vehicle for experimentation with the conceptual vocabulary of American Minimalism collaborating with a rotating cast of Austin-based musicians. The ensemble has three core members, Thor Harris, Peggy Ghorbani and Sarah "Goat" Gautier — with its line-up expanding and contracting with the flux of compositional and improvisational contexts.

Thor & Friends draws on classic Minimalist composers, including Terry Riley and Steve Reich, but also amalgamate such diverse influences as Brian Eno, Aphex Twin, Moondog and The Necks around a polyrhythmic core of mallet-struck instruments, primarily marimba, xylophone and vibraphone. Circling these core motifs are shifting streams of everything from processed pedal steel and analog synthesizer to violin, viola, stand-up bass, clarinet, duduk and oboe.
Thor & Friends, 4 is the band's fourth LP. Initially put out as part of Joyful Noise Recordings, 2019 Artist in Residence, it is now being released far and wide through Joyful Noise. Thor writes, "Thor & Friends is a collective of musicians. Some players are classically trained, others are punk musicians with no reading skills, just spirit and will. Through friendship and musical collaboration, this album brings together Craig Ross, Alan and Mimi from Low, Bill Callahan, and Jolie Holland. strings from the likes of Mollie Fischer, Travis Weller, Lindsey Verrill, Andrea Calderon, and Nino Soberin. and even more instrumentation from Jeff Johnston on saw, Christopher Cundy, Andrea Belfi, and Adam Harding.

Colored vinyl.