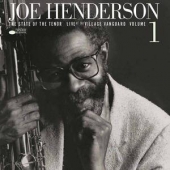 Henderson Joe
The State Of The Tenor: Live At The Village Vanguard Vol.1 -tone Poet Series
Label: Blue Note
Genre: Jazz / Avant Garde
Availability
LP 180gr Audiophile €36.99

Out of Stock
Joe Henderson on tenor saxophone, Ron Carter on bass, and Al Foster on drums captured live in 1985 playing at the peak of their respective powers at NYC's historic jazz shrine, The Village Vanguard.
Alfred Lion, founder of Blue Note Records and its sole producer until 1967, said upon hearing these sessions: "I think this is truly a classic album. What Joe plays is unbelievable. This is one of the most important albums that I have ever heard. It is definitely one of the best ever made on Blue Note. And I don't mean the new Blue Note. It's one of the best ever, including all of the records we did in the 50s and 60s."

Blue Note Records Tone Poet Audiophile Vinyl Reissue Series is produced by Joe Harley and features all-analog, mastered-from-the-original-master-tape 180g audiophile vinyl reissues in deluxe gatefold packaging. Mastering is by Kevin Gray (Cohearent Audio) and vinyl is manufactured at Record Technology Incorporated (RTI).