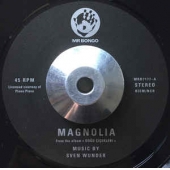 Wunder Sven
Magnolia / Lotus
Label: Mr Bongo
Genre: Freestyle / Nu Jazz / Funk / Afro
Availability
7" €12.99

Dispatched within 5-10 working days
Mr Bongo is delighted to present a new and exciting collaborative project with Swedish label Piano Piano Records.

Hearing the Swedish outfit Sven Wunder for the first time is as refreshing as an ice-cold Limoncello after an Italian meal. One of those bands that feel instantly familiar like an old friend, yet simultaneously fresh and new. Straight away we fell in love with their sound and knew we had to work with them.

The first fruits of our partnership is a collector's edition 7". We have selected two tracks of Turkish inspired funk goodness taken from their already cult-classic 2019 album, 'Doğu Çiçekleri (Eastern Flowers )'. Both instrumentals, 'Tulip' and 'Magnolia' could easily have come from a lost soundtrack to a psychedelic movie. With their beautiful, yet raw aesthetic, they will enthrall funk, B-Boy / Girls, and psychedelia fans alike.

Cut at the Timmion Records Cutting Lab in Finland.