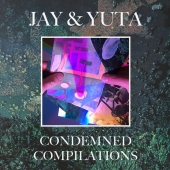 Jay & Yuta
Condemned Compilations
Label: Research Records
Genre: Electro / Electro-Rock
Availability
LP €20.99

Dispatched within 5-10 working days
Condemned Compilations, a collection of almost-pop songs and sketched experiments by Sydney's darling duo, Jay (of Rangoons fame) and Yuta (of Orion and Low Life infame). The affection that the two share for UK DIY is immediately apparent in the ramshackle approach and offbeat wryness of humour employed throughout.

Immediately accessible synth-pop track 'Swimming Pool', shouldn't work on paper. It's playful naivety could irk, but instead somehow remains on the right side of endearment. Another highlight, 'Access Card', offers a Jay-driven thought experiment in self-betterment over a quickened, unchanging pulse where insidious undertones loom large. Another clear standout is 'Mysterious Flaws In The House We Built Ourselves', the interplay between vocal melodies and the askew beat as uneven as the titular living-space. Closer, 'Crucial Haze', is Current 93 by way of Oasis. Ordinarily anything blurring these lines would be a clear anomaly, although bookending this eclectic collection it suits.

Pop music, at its best, has always succeeded in simplistic arrangements. Punk is obviously also grounded in the democracy of what little is needed equipment and skill-wise in order to make a song that burns. Much modern music churned out (punk or otherwise) seemingly values ease of reference and with it, a smooth digestion. When bedroom-pop sensibilities have become another branded hashtag, rather than an unintended by-product of necessity, it becomes increasingly difficult to discern what is a genuine trip. What to do with all of history at your fingertips?

A good deal of the early UK DIY and Australian art-rock bands Jay & Yuta can be viewed as a modern continuum of didn't exist past a single or handful of 7"s. They were often young, without any musical education and didn't remain congealed together long enough to better master their instruments. But they also didn't lose their sense of humour or immediacy and, with that, lose the magic that makes those records still spin 40 years later.