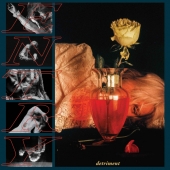 Entry
Detriment
Label: Southern Lord
Genre: Stoner / Post Metal / Industrial Rock
Availability
LP €19.99

Dispatched within 5-10 working days
Los Angeles based hardcore punk band Entry shall release their debut full length, Detriment via Southern Lord . This follows their sold-out 7" No Relief on Dune Altar.
Entry started as a project between Sara G and Clayton Stevens (of Touché Amoré) inspired by the likes of Discharge, Minor Threat, Converge, Tragedy, The Cramps, and The Exploited. The punk community at large is as inspiring as it has ever been to them.
As a collective, Entry firm belief in the power of punk and the uniting nature of music, and with Detriment they reflect themselves and their community with integrity and authenticity, this caught the ears of Southern Lord label owner Greg Anderson. He remarks "The unhinged intensity of Entry's live performance at the last Power of the Riff fest blew me away. They embody many of the characteristics of powerful underground music that I have been obsessed with since my youth!."
Entry are:-
Sean Sakamoto- Bass Guitar
Sara G- Vocals
Chris Dwyer-Drums
Clayton Stevens- Guitar

Bass player Sean Sakamoto plays in the indie pop band Sheer and is a recording engineer in LA, while drummer Chris Dwyer is also a recording engineer in LA, Sara's musical origins come from punk bands in Pennsylvania, and Clayton also continues to play guitar in Touche Amore on Epitaph Records.