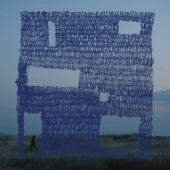 Rani Hania
Home
Label: Gondwana
Genre: Electronica / Ambient / Experimental
Availability
CD Digi / Cardboard €18.99

In Stock
"I feel like 'Home' is a second part of the same book, that the start was in 'Esja', a musical prelude to a real plot. I feel Home is a story with an ending, so the next book can tell a totally different one. I am constantly looking for new ways of expression. I am curious where 'Home' will lead me and my music". — Hania Rani

Hania Rani is a pianist, composer and musician who, was born in Gdansk and splits her life between Warsaw, where she makes her home, and Berlin where she studied and often works. Her debut album 'Esja', a beguiling collection of solo piano pieces on Gondwana Records was released to international acclaim on April 5th 2019 including nominations in 5 categories in the Polish music industries very own Grammys, the Fryderyki, and winning the Discovery of the Year 2019 in the Empik chain's Bestseller Awards and the prestigious Sanki award for the most interesting new face of Polish music chosen by Polish journalists. Rani also composed the music for her first full length movie "I Never Cry" directed by Piotr Domalewski and for the play "Nora" directed by Michał Zdunik. Her song "Eden" was used as a soundtrack of a short movie by Małgorzata Szumowska for Miu Miu's movie cycle "Women's Tales"

If the compositions on Esja were born out of a fascination with the piano as an instrument, then her follow-up, the expansive, cinematic, 'Home', finds Rani expanding her palate: adding vocals and subtle electronics to her music as well as being joined on some tracks by bassist Ziemowit Klimek and drummer Wojtek Warmijak. The album reunites her with recording engineers, Piotr Wieczorek and Ignacy Gruszecki (Monochrom Studio) and the tracks were again mixed again by Gijs van Klooster in his studio in Amsterdam and by Piotr Wieczorek in Warsaw ( Ombelico and Come Back Home). Home was mastered by Zino Mikorey in Berlin (known for his work on albums by artists such as Nils Frahm and Olafur Arnalds).

For Rani, 'Home', is very much a continuation of the work she started on 'Esja', "the completion of the sentence" as she puts it. The album offers a metaphorical journey: the story of places that become our home sometimes by chance, sometimes by choice. It is the story of leaving a place that is familiar and the journey that follows it. Home opens with the fragment of the short story "Loneliness" by Bruno Schulz, which can be seen as a parable of a journey that does not necessarily mean going beyond the physical door but can signify going beyond the symbolic limits of our knowledge and imagination.

"One can be lost but can find home in his inner part - which can mean many things - soul, imagination, mind, intuition, passion. I strongly believe that when being in uncertain times and living an unstable life we can still reach peace with ourselves and be able to find 'home' anywhere' This is what I would like to express with my music - one can travel the whole world but not see anything. It is not where we are going but how much we are able to see and hear things happening around us". — Hania Rani

Home is also about the inevitability of change. We never find places exactly how we left them. Time flies and life with it. Just like art and music. Once you started the trip, you will never be back really to the place where you started with. It is a sentiment that is at the heart of Home, not just its themes, but at the heart of Rani's music too. Following the success of Esja it would have been easy for her to stick to the same solo piano formula, but while Rani expresses her surprise and gratitude for the success of Esja, "I wasn't sure how this album - based on Piano and silence - will be received by the audience. The reception was a big surprise to me" it has also given her the confidence to express more of herself as an artist. On Home Rani steps into more of a producer's role, adding strings, bass and drums where needed, exploring the sounds of synths and electronica, but also creating textured layered songs made from acoustic samples, mostly from piano recordings. "I try to explore new genres and discover new artists, I don't want to be stuck in things that I know, I want to learn about things that are still new to me". But perhaps most notable is her singing, Rani has a fragile, beautiful voice, both pure and expressive. Long a feature of her live shows she uses it as another instrument, adding extra layers of melody and emotion to her already deeply expressive music.

"I consider voice as another instrument. Maybe if I wasn't so often alone on the stage, I would take another instrument to play the melody that I have in my mind. But while I am alone, singing allows me to have more possibilities at the same time. The human voice has a real magic, nothing carries emotions as easily and powerfully as the voice, and I think being able to bring this atmosphere on stage opens up new possibilities of expression for me". — Hania Rani

Home also features Rani's new band, bassist Ziemowit Klimek and drummer Wojtek Warmijak who appear on some of the albums stand out tracks, the beguiling single 'Leaving', the title track 'Home', atmospheric 'Tennen' and the beautiful 'I'll Never Find Your Soul'. After working and touring alone Rani begin to feel stuck with her own ideas and thoughts, and sounds. It was a prolific period for her compositionally, writing the music on Home, but also a film score and music for the theatre, but she felt that someone else's vision might bring new ideas to things that she already knew. Shortly before she was about to record Home she attended a concert of the young Polish jazz trio, Immortal Onion, in Gdańsk, her hometown. She liked what she heard and sked the double bassist and a drummer if they wanted to meet and something clicked. They spent most of the next week improvising and jamming on her music. This gave a whole new insight for some of the songs and brought new ideas for arrangements. And having enjoyed working together on the album Rani is looking forward to touring with the boys.

"Touring with band is a totally different thing, way more challenging technically, but it also brings a new energy and new sound possibilities. I am very curious how we will manage to bring the album to life. I would like to keep the show balanced - mixing the new textures of Home with the atmosphere of minimalistic songs from Esja." — Hania Rani

For Rani, this sense of exploring is a key part of her art. But it isn't only the music, Rani is keenly interested in art and architecture (as anyone who follows her exquisitely curated Instagram feed will know) and how her music works in the wider world.

"I try to keep my eyes and ears wide open. What I want to master in my art is how to build the right atmosphere on stage, in recordings. To do this you need to be aware of many aspects - not only music, but also the full range of gestures, acoustics, visual aspect. I want to learn how to bring particular atmosphere and bring people to a specific space. I observe how music works in different contexts, how the feeling of sound changes in different acoustics, space, light conditions. The same thing happens with artwork that I share. I feel like everything of what I am bringing to the the world and sharing with others has an impact of reception my music. If we are an inseparable part of the ecosystem, then the music should be considered similarly." — Hania Rani

The album's distinctive cover artwork was designed by the architect Łukasz Pałczyński, who combined his sketches with the stills from the music video for the song Leaving shot by her regular collaborators Mateusz Miszczyński and Jakub Stoszek in Greece and together with Rani's music and vision it is this sense of collaboration that gives Home it's power as Rani starts to give full expression to her own unique vision and perhaps the most exciting thing is that it is just another step on her journey, one that we are all lucky to be a part of!