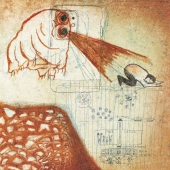 Deerhoof
Future Teenage Cave Artists
Label: Joyful Noise
Genre: Rock / Pop
Availability
LP + MP3 COUPON €24.99

Dispatched within 5-10 working days
"Deerhoof is a weapon loaded with the future." - Agustín Fernández Mallo, Spanish physicist and writer

Over the past couple of years, while making their new album, Deerhoof have been asking themselves if there was any music they could create that expressed how our rapidly emerging future might actually feel. The band envisioned an album about people haunted by memory of a lost world and of every failed attempt to save it. People already living outside the system, already having practised new ways of life required for survival—these hopeful heroes are Deerhoof's inspiration. These are the Future Teenage Cave Artists.

Faithful listeners will recognize a certain alienated but transformational figure who shows up in Deerhoof songs going back to their earliest days. Take the narrator of "The Perfect Me" from 2007's Friend Opportunity: an orphaned but eager soul attempting to entice other wounded wanderers who might lack a home, a clan, a family, a history. But on Future Teenage Cave Artists our protagonist is threatened by terror lurking around every corner. Add to that the fact that our 'cast-off queen,' our 'maniac,' our 'terrible daughter' is watching themselves get orphaned in real time, by an older generation in power that would seemingly rather see life on Earth destroyed than let go of archaic systems of capital.

Like a lot of the music they have released over the last quarter-century, the Deerhoof of Future Teenage Cave Artists (Satomi Matsuzaki on bass and vocals, Ed Rodriguez and John Dieterich on guitars, and Greg Saunier on drums, vocals and piano) stitches together fragments of 'r&b' and 'classic rock' and transforms them into a new language of revolution, forgoing verse-chorus structures for dream logic and blind intuition. But what makes this album different is its intimacy—the blues riffs and slide guitars are joined by rusty pianos and whispered three-part harmonies.

In this sense, FTCA inverts the formula of Deerhoof's last album, Mountain Moves, which invited a wide community of collaborators to band together in an open celebration of solidarity. The new one, on the other hand, is borne of self-isolation and deprivation. It's the sound of a sparkling, manic musical intelligence being disconnected from a nourishing public and devouring itself inside its own cocoon, attempting metamorphosis.

At times FTCA indeed sounds as if the band had in fact retreated to the caves, recording with unreliable electricity and insecure food supplies. Guitar pedals malfunction mid-take reverbs chop off mid-tail, drum fills get abandoned mid-phrase. Some musical moments, as gorgeous and touching as anything Deerhoof has ever written, stop short for no apparent reason, giving way to queasy smudges of sound. Many of the instruments and voices were recorded with nothing more than the built-in mic of a laptop. Harsh splices make no effort to hide the seams. Hard panning leaves many of these imperfections weirdly naked in the mix.

In this way FTCA joins a long and storied lineage of pop records that expose the insular and reclusive nature of the recording process itself. Like Let It Be, There's a Riot Goin' On, or Sister Lovers, this record is its own "making-of." Absence is a central character in the drama. For every heartwarming melody or pile-up of parade drums or shard of loopy guitar noise, there is musical acknowledgement of the toll that constant threat of cataclysm takes on mental health. These are sonic and lyric funerals for a way of life that is never coming back. There are raucous toasts to the departed in high style, as sassy and spasmodic as anything they've done—see Side A; there are moments of profound sadness, maximally small, descending into madness, shrieking with loss—see Side B. All funerals remind us that life goes on, somehow.

In that time after the end times, it's not only the food systems, energy systems, and political systems that will have to be rebuilt. Myths, stories, and rituals we use to make sense of the world are up for revision, too. The music of Future Teenage Cave Artists asks: How does one adapt—mentally, emotionally, physically, spiritually—to an increasingly threat-filled and rapidly shifting world? Might our networks of mutual aid be our best example of civilization? Our DIY basement shows the real high art?

One answer might be found in the two-and-a-half decades that this improbable combination of personalities and backgrounds we call Deerhoof has spent on stage, cultivating agility, quick-wittedness, and a loose approach to improvisation. This is a record about resilience and the persistence of hope in a future beyond any reasonable justification for it. Like so many young people today, Deerhoof seems to be already living in that future.

Red vinyl.