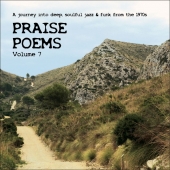 Various Artists
Praise Poems Volume 7
Label: Tramp
Genre: Freestyle / Nu Jazz / Funk / Afro
Availability
LP x2 +MP3 COUPON €20.99

Dispatched within 5-10 working days
After more than two years of hard work, the Tramp Records crew invites you to join them on yet another enlightening journey into soulful Jazz, Folk and Funk from the 1970s.

Very few compilation series' release as many as seven volumes and those that get that far often start to run out of quality music or meander too far from their original artistic direction. That certainly is not the case with the "Praise Poems" series which leaps from strength-to-strength as our team of compilers and researchers continue to unearth lost and often overlooked music from an era long gone. Many of these records were released in small quantities as private pressings or by small regional labels. Obviously, those labels neither had the budget, expertise, nor options to promote their releases in a sweeping way. Therefore the majority of these artists failed to find the wider audience their music so richly deserved.

This 7th volume contains seventeen Soul, Folk and Jazz nuggets from between the late 1960s and the early 1980s. One of the many highlights is the opening track by Marva Josie which is most likely one of the finest vocal jazz recordings ever put on wax. Bill Comstock delivers an inimitable example of uncategorizable Jazz-meets-Soul-meets-Folk. Promotion Soul Concern was a group originally from a small town close to Bonn, the former capital of Germany. Their version of "Summertime" stands out among the myriad of cover version of this all-time classic. Another jewel which we are extremely proud to present is "So Far Down" by James Kelly Duhon - absolutely marvelous! Shalynn and The New Hope Project deliver an offering of beautiful folk music with a psychedelic touch not to be missed. These are just 6 out of the 17 tracks which are now meant to be discovered by you!

Hopefully, this will be the case with the little-known and vastly underrated singles, B-Sides and album tracks that are featured on "Praise Poems 7 - A journey into soulful jazz and funk from the 1970s" which is stuffed full of hidden gems. Some say it is one of the best installments in the series thus far. While we certainly approve that statement, we also give thanks to the wonderful artists who made their praises into poems to bless our ears and souls today.