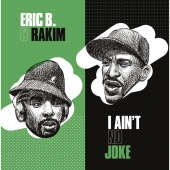 Eric B & Rakim
I Ain't No Joke / Eric B. Is On The Cut
Label: Mr Bongo
Genre: Hip-Hop
Availability
7" €13.49

Dispatched within 5-10 working days
Craft a record iconic enough and, no matter what you've sampled​ to make it, you're destined to be sampled more yourself.​ It helps if you've got Rakim's voice, of course. When he and Eric B went into Power Play Studios in New York in 1987 to record 'I​ Ain't No Joke', their next move was highly anticipated due to the​ critical success of the duo's first record, 'Eric B. Is​ President'. Rakim was already seen as a masterful MC with a​ distinctive slow, baritone flow and seamless access to a rich​ vein of words not often heard in hip-hop.

People's first exposure to this track was on the landmark 'Paid​ in Full' album, and it was clear this had the potential to jump​ off as a single. The repetitive, simply scratched sample of 'Pass the Peas' by the JB's was an infectious ear worm that needed a​ truly strong MC to stand up to it. He did more than that – here​ Rakim spun timeless lyrics and lines that would go on to be sampled and referred to dozens of times down through hip-hop​ history. He took one of rap's great instrumentals and wrestled it​ to the floor.

Of course, you can't have Eric B & Rakim without Eric B. The DJ​ gets his time to shine on the flip, and while he isn't a man​ renowned for his dexterity and turntablist skills, the track​ still knocks. Maybe it's because Eric B has already realised what​ many would come to work out later: If you haven't got Rakim on​ your record, at least scratch his vocals. This re-release comes with a brand new cover utilising some of Dan Lish's trademark​ artwork.