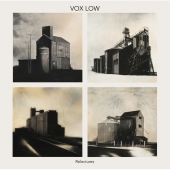 Vox Low
Relectures
Label: Born Bad
Genre: Electro / Electro-Rock
Availability
12" €13.99

Dispatched within 5-10 working days
REMIX by:

PILOOSKI
Cédric Marszewski aka Pilooski started as a sound designer for Radio France. Later, he joined the journalists Guillaume Sorge & Clovis Goux of the D*I*R*T*Y collective. Together, they released the compilations Dirty edits and Dirty space Disco for the Tigersushi label and "Beggin", a remix that has been used in many commercials around the world.

Cédric produces Tristesse Contemporaine, Hypnolove, Perez, Discodeine, he has worked with Jarvis Cocker (Pulp), Baxter Dury, Matias Aguayo and Kevin Parker (Tame Impala).

He has published numerous remixes under the name Pilooski for Bryan Ferry, LCD Soundsystem, Tame Impala, Jarvis Cocker, Nina Simone, Alain Chamfort, Mark E. Smith Von Sudenfed, also Metronomy, Yelle or Joakim, Who Made Who (with Discodeine).

Cédric is Musical Artistic Director for brands such as Hermès , Christophe Lemaire, Lanvin, Bonpoint.
He collaborates with advertising agencies: Saatchi & Saatchi, Publicis, BETC, Young & Rubicam, Sid Lee for worldwide advertising campaigns (Lipton, Mastercard, Clarins, Adidas, Orange, Hermès parfum, Lacoste, Balenciaga).

He composed the music for Joyce A's feature film. Nawashati's feature film "Blind Sun"; collaborated with Les Films du trésor ("Populaire", Régis Roinsard), Europa Corp ("Arthur et les minimoys", Luc Besson).

He is currently working on an art installation with Jarvis Cocker & Sophie Calle. A sensory tale in which music, a story, images and olfactory impressions are mixed together and disappear.

Tolouse Low Trax:
The ethics of Tolouse Low Trax alias Detlef Weinrich stands out in his multiple releases on labels such as Idle Press, Infiné, Karaoke Kalk, Kunstkopf, Neubau, Themes For Great Cities, Antinote or Cómeme. The German producer is no newcomer to the scene: still an active member of Kreidler and Toresch, he is the man behind the famous Düsseldorf Salon des Amateurs. His productions as Tolouse Low Trax explore Afro-baroque elegance through dark arpeggios leading to a slow and hypnotic liberation.

Abschaum:
Since 2010, the French trio of Abschaum, led by Chris Poincelot, has been navigating wilderness terrain. As if to better release the subtle tension of their music: a definitely krautrock heritage mixed, intrigued, blended with the influences of a raging Alan Vega. Because this heritage, its context, its aesthetics are not insignificant. Hypnotic, synthetic loops, saturated riffs and black voice, Abschaum, "vermin" in German, has cradled his ears to the sounds of Spacemen 3, Ash Ra Tempel and Can.

Orestt :
Boss of the label Evrlst.inc and of the famous record store of the same name in Nice, Orestt is also a rare and emeritus producer.


A handful of EPs have been released under his name, notably on I'm A Cliché, Cosmo Vitelli's label.

We find him here for his first "remix" in the same vein as his productions: synthetic, dark and hypnotic.