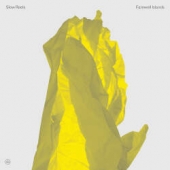 Slow Reels
Farewell Islands
Label: Morr
Genre: Electronica / Ambient / Experimental
Availability
LP + MP3 COUPON €19.99

In Stock
Slow Reels combines Ian Hawgood's love of reel-to-reel tape machines and vintage synthesizers with James Murray's melodicism and richly textured digital sound design. Their Morr Music debut, 'Farewell Islands', is an arresting, fluorescing album that blends full-frequency dronescaping with a slow-burning ambient minimalism.

Ian and James met on the UK minimal music scene releasing each others' music on their Home Normal and Slowcraft labels. Their recording collaboration began remotely while Ian lived in Warsaw, spending long nights with his collection of reel-to-reel machines: "I created a number of loops with an old and sadly dying Akai which was noisy and would stutter quite a bit. I also found myself using older tape on cracked reels and the effects of this really helped develop a newer path for my own work". James began to weave piano, guitar and synthesizers into the material from his London studio, combining the two artists' tonalities into something so unexpectedly compelling it took them both by surprise. Ian then transferred these manipulations back onto tape, further refining and defining the sound during deep dive experimental analogue mastering sessions.

The role of old technology in Slow Reels' work lends a sense of decay and transience sure to resonate with admirers of William Basinski, Rafael Anton Irisarri and Benoît Pioulard, but the underlying melodies set a clear counterpoint: a longing for the vivid is deeply grounded within this music. The four cinematic, long-form movements of 'Farewell Islands' possess a delicate romanticism and emotional urgency that engages and gradually overwhelms the listener.

The islands of the title are both real and notional, as James explains: "places of meaning to both of us in our lives, found now only out of time, belonging outside the present and out of reach". This nostalgic farewell also marks a fresh beginning, as the duo's ongoing Brighton-based studio sessions generate further reels of unearthly electronic landscapes that seem to hiss, warble and granulate their own way onto tape.