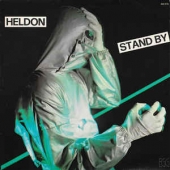 Heldon
Stand By
Label: Bureau B
Genre: 60s / 70s Rock / Pop / Progressive / Kraut
Availability
LP €24.99

Dispatched within 5-10 working days
So much ground covered, from learning electric guitar to listening to English blues rock! Let's not forget that Richard Pinhas, the leader of Heldon, began by absorbing Jimi Hendrix as an adolescent, leaving that behind at the beginning of the 1970s, after having heard what Miles Davis and Herbie Hancock were doing with synthesizers, and then discovering the seminal duo Fripp & Eno.

It was one year on from this epiphany that the first album by Heldon was released. The main idea was to rock and roll on electronic machines. Richard Pinhas was of course playing electric guitar, but was also interested in the A.R.P. and VCS 3, to the point of purchasing the Moog 3 owned by the Beatles! In order to do so, he had to sell of the label he had created in order to release Schizo, Alain Renaud and Heldon, which he had named Disjuncta, and was the first totally independent French label. This was the beginning of the 1970s: Heldon had already released four key albums and left their home studio for Davout, beginning a trilogy starting with the sound of Un Rêve Sans Conséquence Spéciale, continuing with Interface and concluding with Stand By. In total, between 1974 and 1979: seven important albums!

In 1979, when Stand By, was released, was released, the press had already labelled Heldon as the first electric punk group. There is nothing silly in that, Heldon having quickly moved away from the spacey German influences which were not to Richard Pinhas' taste. This can be heard on Stand By, the lynchpin of which is the twenty minutes of sound and fury of "Boléro", something of a high point of a group not lacking in memorable moments and which owes much to the sequencers of the "technician" Didier Badez. As on the two previous releases, the ever-faithful Patrick Gauthier, François Auger and Didier Batard were present – and how! For one track, Klaus Blasquiz (a very special guest) sings and highlights the underlying links between Heldon, Magma and Weidorje, but also a shared past experience in Blues Convention with Richard Pinhas.