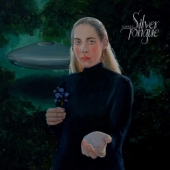 Torres
Silver Tongue
Label: Merge
Genre: Rock / Pop
Availability
LP + MP3 COUPON €20.99

In Stock
A person whose words are so potent that they cause the people and beings around them to vibrate is said to have a "silver tongue." It's apt, then, that Mackenzie Scott—who has spent the 2010s making boundary pushing pop music under her TORRES moniker—has chosen to call her fourth album, and first release on Merge, just that.

Recorded at O'Deer in Brooklyn, New York, Silver Tongue is a full-scale realization of the world Scott has created over TORRES' last few albums. Even when singing in more subdued tones, Scott's voice is fervent, her lyrics stirring and unyielding as she draws from both the divine and the everyday. It's also the first TORRES record produced solely by Scott. After having shared production duties on her first three albums, the latter two alongside PJ Harvey collaborator Rob Ellis, she found the process liberating: "I made exactly the record I want, and it feels very 'me.'" Silver Tongue fastidiously chronicles the impulses that make up desire from the dreamy first blushes of infatuation through the slightly terrifying wonder that accompanies connection with another. In between, Scott wrestles with the highs and lows of what "being in love" might mean over heady guitars and swirling synths. While potent vocal hooks punctuate songs like the sparkling "Dressing America," which combines New Wave glitter with hovering frustration, and the brooding "Good Grief," which gently pokes at the idea of fetishized sadness, the knottiness lurking underneath reflects Scott's realtime processing of her emotions while making the record. Silver Tongue's musical world is vast and at times seemingly infinite. Edge-of-the-world synths add gravity to the vulnerability of "Two of Everything," and refracted guitars offer a gnarled counterpoint to Scott's increased determination at the end of "Last Forest." On "Gracious Day," one of TORRES' most forthright love songs, Scott's voice hovers over a starlit landscape in a way that transcends the mundane and enters the otherworldly as she sings.

TORRES' music has long navigated the space between the physical and the metaphysical, and Silver Tongue faces that conflict head-on, examining the ways in which the actions of others can stir up deep-seated feelings and seemingly alter the space in which one exists.