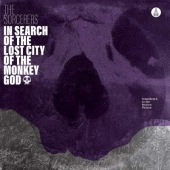 Sorcerers
In Search Of The Lost City Of The Monkey God
Label: Ata Records
Genre: Jazz / Avant Garde
Availability
CD €13.99

Dispatched within 5-10 working days
ATA Records are proud to announce the follow up to the critically acclaimed debut album fromThe Sorcerers. Conceived as a soundtrack to an imagined lost European exploitation film,'In Search of The Lost City of The Monkey God'covers a wide range of influences: Ethiopiques Ethio-Jazz rubs up against European library music of the 60s and 70s. The Sorcerers seamlessly blend these disparate elements into one cohesive sound.

Based in ATA Records' home of Leeds, The Sorcerers form the backbone of the ATA Records house band including drummer Joost Hendrickx (Kefaya, Shatner's Bassoon, Abstract Orchestra) and ATA label heads Neil Innes (Bass & Guitar) and Pete Williams (Woodwinds & Percussion). Bass clarinets, flutes, and esoteric percussion that sit alongside bass, guitar and drums are essential to The Sorcerers sound providing cinematic textures on top of a solid rhythmic foundation.

The Sorcerers began working on the new album during the winter of 2018 and it was during the writing sessions for this album that the concept for the LP began to take shape. The name for the album was taken from the title of a National Geographic article read by Bassist Neil Innes and was used as the starting point for the entire concept. The library music scene of the 60s and 70s has always been an intrinsic part of the sound of ATA Records and so it made perfect sense to envisage the album as a soundtrack, given the cinematic quality of The Sorcerers music.

Each track was written with a particular scene in mind and the music was then shaped in the studio to best reflect the essence of that scene. Drums, Bass and Percussion provide the solid foundation onto which Flutes, Bass Clarinets, Xylophones and Vibraphones add the atmospheric and melodic counterpoint, deftly weaving between one another to conjure up images of the unforgiving environment of the dense jungle, unknown eyes watching the protagonists of the imagined film as they make their way towards their ultimate goal, their pursuit by unseen assailants, the arcane mysticism of undiscovered cargo cultists and the ancient ruins of long passed civilisations.