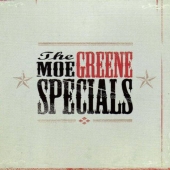 Moe Greene Specials
Moe Greene Specials
Label: Green Cookie
Genre: Rock / Pop
"The Moe Greene Specials play a seriously moody and dramatic form of spaghetti western, with multiple guitars that create a thick wash of sound, and bass and drums, and accompanied by horns that add to the Morricone experience. This album is really fit for a film score." Phil Dirt – Reverb Central (USA)

"It's certainly the best spaghetti western album that Enrio Morricone never made and, to my ears at least, better than any of the albums hi did make. This is because it is intended for listening to rather than as an accompaniment to pictures. If you have any spagwest albums you certainly need this one too. If you ever fancied trying one and weren't sure where to start, then this is the place. Ok hombre?" Alan Taylor – Pipeline magazine (UK)

"From Belgium, The Moe Greene Specials play cinematic instrumental surf and spaghetti western tunes that evolve almost symphonically, with trumpets doubling the guitars. Musical influences vary from Calexico-style desert songs to Stax soul to Dick Dale." ZPTDUDA music. com (USA)

First time on vinyl! Limited edition.