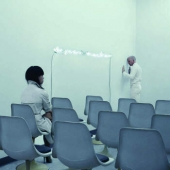 Maclean Juan
The Future Will Come
Label: Dfa
Genre: Electro / Electro-Rock
Availability
LP x2 €29.99

Dispatched within 5-10 working days
Since the turn of the 21st century, DFA club music maestro Juan Maclean has been laying groundwork. First, there were killer singles, from "By the Time I Get to Venus" in 2002, to "Give Me Every Little Thing", to last year's international club hit & critical year-end favorite "Happy House". There was a debut full-length (Less Than Human, 2005); remixes for colleagues like Air, Chicken Lips, Daft Punk, Dave Gahan, Matthew Dear; international tours with LCD Soundsystem, Cut Copy and Shocking Pinks; and DJ gigs from Telluride to Tel Aviv. Now comes the next stage of the operation – album two has arrived, entitled The Future Will Come.

Phase One: "I was very much influenced by going on tour with my live band for a couple years." Rather than retreat to a recording studio in Woodstock, NY, and toil in solitude, he brought along Nick Millhiser and Alex Frankel (also known to DFA fans as Holy Ghost!) to lay down parts. "I had already done enough on my own," concedes the seasoned studio whiz. "With very rare exceptions, music is always made better by having the influence of other people."

Which brings us to Phase Two: "The next guideline was revisiting the Human League," reveals Maclean - specifically the lineup responsible for the 1981 international bestseller Dare.

Watch the effect the opening bars of "Happy House" have on a packed nightclub; the exuberance it triggers in listeners easily matches the giddy heights of that time-tested synth-pop classic. Juan enlisted creative foil and DFA mainstay Nancy Whang (also an agent of LCD Soundsystem). She was a willing co-conspirator. "The very first song we worked on, he already had his vocal part, and wanted mine to serve as a counterpoint," she remembers. "From there, I could hear the male-female call-and-answer."

With these points set, Juan and Nancy wrote and recorded the album quickly. Rather than elongate ideas into epic 12-inch singles, they strived to keep sounds and structures crisp and succinct. Focus was maintained via ruthless edits and repeated spins of "SexyBack." The results range from the bittersweet parry-and-thrust of "One Day" to the android R&B of "The Station." At the furthest extreme, the spare, desolate "Human Disaster" serves as a chilling contrast to the climatic reprise of "Happy House."

Polished, precise, fully-realized and flawlessly executed from start to finish, The Future Will Come stands poised to disarm listeners in a surprising, rewarding way only certain albums can manage.

Clear vinyl.