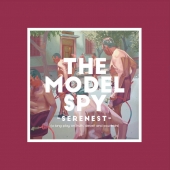 Model Spy
Serenest ( A Long Play On Truth, Deceit And Souvenirs )
Label: Make Me Happy
Genre: Rock / Pop
Availability
LP + MP3 COUPON €20.99

Dispatched within 5-10 working days
The story of Model Spy, is a blast from the past of Athenian indie music. The band introduced to the outside world back in 2008, with a series of DIY self-released EPs and singles that were available at their live shows in Athens.

During the same period, they have seen some of their tracks released as part of various indie compilations and also recorded a cover of Television Personalities' "I Know Where Syd Barrett Lives" for Canadian label "The Beautiful Music".

Based at the underground indie environment that Athens was creating at the moment, the band was putting together tons of unreleased material that they were only performing live, hence the idea of leaving the DIY process for an official recording was more than a goal.

It was still back in the summer of 2008 when after a rehearsal break at Sonic Playground studios, Nikos Triantafyllou (long time promoter, producer and sound engineer) stated that he was willing to take over the production and release Model Spy's full-length album.

From that time onwards and for months after, the band would take meetings after rehearsing at the studio on almost every Saturday and on as many weekday evenings as possible, recording, erasing, recording again.

A year or so later, they had fourteen complete instrumental tracks.

Even though, the production team was always by their side, however (and unhappily) some of the band members failed at fulfilling their commitment.

Sadly enough, long-term friendships violently terminated and left a half-broken up band and an unfinished record.

Within a couple of years down the road, there was a feeling of unfulfillment for Konstantinos Vavousis (bass) and Vagèlis Kyriakákis (guitar, lyrics) who were leading the project. With Konstantinos keeping actively participated in Athenian indie acts (such as My Wet Calvin, Zebra Tracks, Monika, Leon of Athens, etc.) and Vagèlis being local scene's favourite indie DJ, timing was not on their side.

Entering 2015 reunion era. The duo put together new songs that were mixed and mastered, but still there was a feeling of incomplete (not to say unfulfilled) result. By that time, it was like the band was a "has been" and everyone felt like they were another local indie pop act of Greek My Space generation, whose traces were lost. Of course, time was not an issue for their debut. They have waited for too long and it was already 2017 by the time they revisited already recorded sessions, and finally decided to follow contemporary indie pop standards.

Went back to Nikos Triantafyllou as the man behind the desk, kept the spirit of the album alive, but also started the whole thing from scratch. Adding, the genius of Chris Bekiris (Devamp Javu, Chickn, the Callas etc. etc.) in coproduction and soon they were all a new band back together.

Bekiris and Triantafyllou performed their productive magic while Leonidas Oikonomou from My Wet Calvin, Katerina from Tango with Lions, Evangelia a.k.a. Miss Trichromi, Leon Veremis a.k.a. Leon of Athens, Aris Nikolopoulos from My Wet Calvin and Jef Maraawi accepted their guest features and gave new life to the songs by endowing their voices. There you go. The never-ending debut of the Model Spy was finally ready to go, with a little help from their friends. The last lyrics Vagèlis wrote were those for "Theme from Souvenirs", the last song to be recorded and produced was "Theme from Souvenirs", as a matter of fact the only track that has a left over backing vocals from the days of 2008-2011.

It would only make sense to have "Theme from Souvenirs" as an epilogue on an album that was completed 11 whole years later to its commence in order to remind The Model Spy of their past, present and future.

300 copies.