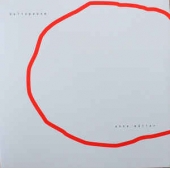 Muller Anne
Heliopause
Label: Erased Tapes
Genre: Electronica / Ambient / Experimental
Availability
LP €20.99

Dispatched within 5-10 working days
Other Formats
Berlin-based cellist and composer Anne Müller, announces the release of her long-awaited debut solo album Heliopause. Heliopause follows several Erased Tapes releases featuring Anne, including her celebrated collaboration with Nils Frahm titled 7fingers, appearances on Ólafur Arnalds & Nils Frahm's Collaborative Works, Nils Frahm's All Melody and his acclaimed soundtrack for the film Victoria, Lubomyr Melnyk's Fallen Trees, as well as the two bespoke solo pieces Walzer für Robert and Bel Tono for the label's 5th and 10th anniversary box sets. In fact, a glance at Müller's Discogs boasts credits on over 60 releases since she began recording in 2007.

"Heliopause is the newest of all the pieces. It marks the end of a long journey but also the start of voyages to explore strange new worlds"
— Anne Müller

Classically trained at Frankfurt University of Music and Performing Arts under the renowned cellist and conductor Michael Sanderling, Anne Müller performed as a cellist in many of Berlin's symphonies for some time before choosing a different path with her music and focussing on novel approaches to classical instrumentation. A profound believer in the power of artistic collaboration, Anne's skilled cello playing and instinctive composition became extremely sought after. Following her work with Nils Frahm, an enduring partnership with singer-songwriter-composer Agnes Obel ensued, touring for five years together and featuring on two albums (Philharmonics Deluxe Edition and Aventine) and most recently, working with multi-instrumentalist Markus Sieber (aka Aukai) on his 2019 album Reminiscence. In between all this, Müller also co-founded the progressive live project Solo Collective along with violinist/singer Alex Stolze and pianist/conceptual artist Sebastian Reynolds, releasing Solo Collective Part One in 2017.

A solo record in every sense of the word, Müller wrote, recorded, arranged and produced Heliopause. The album is named after the boundary where the sun's wind ceases to have influence. It is ultimately, the border of our solar system. The name struck a chord with Müller since the two voyagers sent on an exploratory mission 42 years ago, recently crossed the Heliopause, entering into interstellar space and losing power from our own sun. Müller recognised herself in this moment, not only approaching the same age, but also breaking new ground; having relied on collaborating with so many other stars and now venturing into the unknown with her first solo record.

Boldly opening the album with Being Anne, it sees Müller embrace her new found freedom with the most experimental piece on the record, placing the cello in a completely new context. Playing the strings of a broken down piano with a plectrum and scratching parts of the key mechanism to produce a rhythm, the once lost instrument is given a new lease of life among looped cello drones and drums. "I used the sounds of a tiny piano I got from my mother that she bought when she was a student and didn't have any money. Later it stood for years in our little summer garden house, where I practiced on it constantly for my piano lessons. Even though it's old and not in the best shape, I love the way it sounds and call it my little circus piano".

The atmospheric swells of noise on Being Anne are juxtaposed beautifully with the most stripped back and exposed track on the record, Solo? Repeat! The J.S. Bach and Gaspar Cassado influenced piece is Müller going solo in its purest form: unaccompanied cello. Lead single Nummer 2 is so titled as it's the second piece Müller ever wrote. A mixture of old sounds and newer structures, its repeated arpeggio conjures drama and displays Müller's dexterous production abilities. Drifting Circles meanwhile provides the album's climax, amid and orchestra of looped cellos and vocals. Referencing the minimalism of Steve Reich and Philip Glass, it builds to a crescendo of harmonics allowing the cello to sore, as it crosses the border from minor to major. Heliopause crosses these physical and invisible borders throughout, sending the cello, typically known as a classical instrument, to new and uncharted territory.