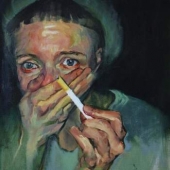 Giant Swan
Giant Swan
Label: Keck
Genre: Industrial / Post Industrial / Experimental
Availability
LP + MP3 COUPON €20.99

Dispatched within 5-10 working days
The much anticipated debut album by Giant Swan, the brainchild of Robin Stewart & Harry Wright; an acerbic marriage of industrial percussion, abused guitar, hypnotic bass and liberal vocal manipulation.

Having built a formidable reputation for their hi-octane improvised performances, relentless international touring and a succession of acclaimed EPs on respected imprints such as Whities, Timedance and Mannequin. 'Giant Swan', on their own freshly minted Keck label, sees the pair stepping things up significantly. A full-length musical statement that bristles with the galvanising energy for which they're known while introducing a fresh depth, range and sonic nuance to the equation. File under: techno-not-techno.

Named after a beloved track by screamo overlords the Blood Brothers, Giant Swan was originally conceived as a side project from the duos role as guitarists in the band The Naturals, with formative influences such as My Bloody Valentine and Lightning Bolt being distilled over time with inspiration from the varied and always vibrant local music scene in Bristol. From dub soundsystem teachings at the Trinity Centre and Black Swan or the fiercely experimental early transmissions of friends in the Young Echo collective. Equally at home setting up their table of machines and pedals in the middle of the dancefloor at legendary clubs like Berghain and Tresor as they are playing the Glastonbury Festival, Supersonic or the Royal Albert Hall, Giant Swan have grown to take their place as one of the most singular and determined groups to emerge from the UK underground in many years.