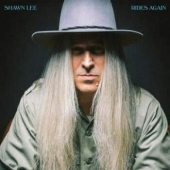 Lee Shawn
Rides Again
Label: Legere
Genre: Freestyle / Nu Jazz / Funk / Afro
Availability
LP €18.99

Dispatched within 5-10 working days
"Rides Again" is Shawn Lee's first vocal and songwriter album since "Harmonium", released in Japan only in 2005, and is a very personal journey into the world of soul-inspired country music.

"Rides Again" has been in the making for a few years, Shawn Lee explains: "Yes, this record has had quite a long gestation period. The opening song 'Wichita' was written and recorded way back in 2007!" With every passing year Lee vowed to write and record more songs with a 'Country' feeling in view of finishing a complete album, but always got too busy with other projects. 2019 arrived and the American born and London based singer, songwriter, multi-instrumentalist, producer, arranger and filmmaker decided that the time was now. Recorded and arranged very quickly in stolen hours from other recording and touring commitments. The songs came together intuitively and organically.

"This is a very reflective and personal album. I am looking back to my childhood in Wichita/Kansas and thinking about where I'm at the present moment and the idea of an unwritten future. I could have only made this album at this point of my life", Shawn Lee says. Musically Country & Soul music share common vocabulary and "Rides Again" illustrates this in its own personal way. "I was inspired by people like Tony Joe White, JJ Cale, Glen Campbell, Rob Galbraith and Hoover to name but a few. I grew up with Country music all around me and it only makes sense that some of that fused in my musical DNA."

Recorded in London at Shawn Lee's studio by long time engineer Pierre Duplan, it features Shawn playing all most all of the instrumentals with haunting pedal steel by Joe Harvey-Whyte, Carwyn Ellis (The Pretenders, Edwyn Collins) on keyboards in two songs plus Andy Ross on saxophone and Everton Nelson on violin on one song.

"I'm really proud of this record and damn glad I finally finished it!" Definitely: Shawn Lee is 'still on the line'.