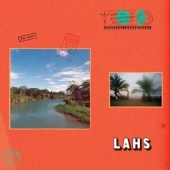 Allah - Las
Lahs
Label: Mexican Summer
Genre: Rock / Pop
Availability
CD Digi / Cardboard €17.49

Dispatched within 5-10 working days
On their fourth LP, LAHS (after Allah-Las, Worship The Sun and Calico Review), drummer Matt Correia, bassist Spencer Dunham, and guitarists Miles Michaud and Pedrum Siadatian A.K.A Allah Las turn their collective gaze outward and toward the horizon. Simply referencing a common misspelling of the band's name, their forthcoming release on Mexican Summer finds the band turning in their most cohesive and ambitious work yet -- a record inspired less by time, but by place.

The Allah Las seem to be transmitting from a place not found on any map. Those familiar with the band's work will recognize their skillful melding of melodies and moods, but through that lens we see them venturing into new, exciting territories. Indeed, their growth not just as songwriters, but as performers, arrangers, and producers — is clearly audible.

With LAHS we not only discover what souvenirs they've brought back for us; they're inviting us aboard and taking us along for the ride.