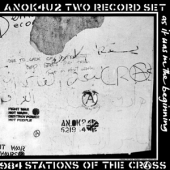 Crass
Stations Of The Crass
Label: Crass Records / One Little Indian
Genre: 80s Wave / Rock / Pop / Punk
Availability
LP x2 €27.99

Dispatched within 5-10 working days
One Little Indian are proud to announce that they will be distributing entire Crass Catalogue on behalf of Crass Records.
Album has been remastered by Alex Gordon at Abbey Road Studios, as close as possible to the sound of the original release. "As it was in the beginning".
Stations of the Crass is the second album by Crass, released in 1979. The record, originally released as a double 12"", includes live tracks from a gig recorded at the Pied Bull pub in Islington, London, on August 7, 1979.