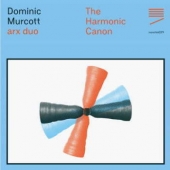 Murcott Dominic / Arx Duo
The Harmonic Canon
Label: Nonclassical
Genre: Jazz / Avant Garde
Availability
LP €17.99

Dispatched within 5-10 working days
A music project featuring a specifically design half-tonne double bell, an array of rare percussion and two highly virtuosic percussionists.

Dominic Murcott is a composer, percussionist, curator and educator based in London. Much of his work combines acoustic instruments with computers, film and other media. He has a continuing interest in work that is personalised for specific performers and has created acoustic/electronic pieces for trumpeter Noel Langley, percussionist Joby Burgess, clarinetist Joan Enric Lluna, harpist Sioned Williams and the Elysian String Quartet among many others. He has taken an unusual path to his current position, starting out as a self taught musician, his early career included playing drums with no-wave pioneers 'Blurt' and composing for the highly successful V-Tol Dance Company throughout their ten-year history. Changing from drums to vibraphone he became a member of art-pop band The High Llamas and has played on records by many influential artists including Stereolab and Pavement.

Created in collaboration with sculptor Marcus Vergette, The Harmonic Canon is both the name of the piece and the double bell that was custom-made for it. Comprising of two bells tuned a semitone apart, the bell was created using Finite Element Analysis, a type of structural analysis that determines the vibration patterns of the bell, manipulating its harmonic series to create a complex series of frequencies that make up a note. Part One is made up of rapid, high energy, virtuosic passages, articulated with the ominous striking of the bell while the second part contrasts with a single resonant tone that evolves and shifts over time. This is part of nonclassical's 21 Minutes series, a new project commissioning 21-minute pieces.

The piece won the BASCA British Composer Award for Solo or Duo. Premiered in 2018, the piece has had radio play on BBC Radio 3, broadcast from Huddersfield Contemporary Music Festival.