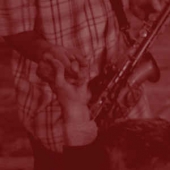 Connors Loren & Carter Daniel
The Departing Of A Dream, Vol. Vii
Label: Family Vineyard
Genre: Post Rock / Avant Rock
Availability
LP €20.99

Dispatched within 5-10 working days
The Departing of a Dream, Vol. VII is the debut collaboration between two giants of the New York avant-garde ­- guitarist Loren Connors and saxophonist/trumpeter Daniel Carter. It's a gorgeous, languorous soundscape distilled from the darkest reaches of blues and jazz.

For nearly 17 years Connors has used the Departing series to continue his meditation on Miles Davis' epic "He Loved Him Madly" and expand his efforts to create disappearing music. The duo does just that; vanishing behind decaying trumpet drones and choral-like sheets of electric strings. The album, mixed and mastered by Jim O'Rouke, ends like the distant shimmers of a black crystal.

Carter and Connors, both active since the mid-1970s, only began performing together in the past year. Carter is a master improviser on assorted horns and reeds and known as a member of the legendary NYC ecstatic/creative improvisational groups Other Dimensions In Music and Test and for accompanying everyone from Sun Ra to Yo La Tengo.

Connors began self-releasing records of his singular guitar improvisations and compositions in 1978. Since he's been lauded as an iconic avant blues visionary by the likes of American roots scholar/Grammy winner William Ferris.