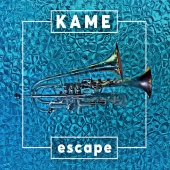 Kame
Escape
Label: Incounterpoint
Genre: Jazz / Avant Garde
Availability
CD Digi / Cardboard €7.99

In Stock
I was born in 1985 somewhere on earth between blood and flowers. I have learnt from the good, the bad and the ugly. I love literature and painting. I explore the sound of my trumpet.

The Microtone – Duplex is a trumpet designed by Tassos Tataroglou and realized by Gerd Friedel between 15.12.2016 and 08.02.2017 in the workshop of Egger in Basel.

The instrument combines different elements of the trumpet construction through the history. Three microtonal keys (1/3 of tone, semitone and 3/4 of a tone) are placed on the main bell of the instrument. Furthermore the main tuning slide can be used as a "trombone" slide and can perform a glissando of a semitone through an additional mechanism. A second bell, which enables the production of two sounds at the same time, is adapted parallel to the main bell. The documentation of the experiment with frequency analysis is recorded in the master thesis: "The development and analysis of a Microtone-Duplex trumpet: An experiment towards extending the tonal and timbre possibilities of the trumpet".