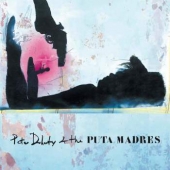 Doherty Peter & The Putas Madres
Peter Doherty & The Putas Madres
Label: Strap Originals
Genre: Rock / Pop
Availability
LP + MP3 COUPON €20.99

In Stock
Other Formats
'Peter Doherty & The Puta Madres' is a devastatingly intimate portrait of love, loss, being lost, happiness, tragedy, addiction and the power of the human soul to transcend its darker levels. All the songs from the album were road tested over the last 18 months across Europe at Festivals and headline shows.

Songs include the reflective 'All At Sea,' the raw 'Punk Buck Bonafide,' the upbeat and playful 'Shoreleave,' the joyous hymn of liberation 'Paradise Is Under Your Nose,' 'Someone Else To Be' Peter's re-imagining of the Velvet Underground's 'Ride Into The Sun' and Oasis' 'Don't Look Back In Anger and 'Who's Been Having You Over' with dialogue from the 1948 film adaption of Graham Greene 'Brighton Rock' and the cheeky poke at his own notoriety,"You're so rock'n'roll."

Peter Doherty has released three album with The Libertines ('Up The Bracket' (2002), 'The Libertines'(2004) & 'Anthems For Doomed Youth'(2015) and With Babyshambles 'Down In Albion' (2005), 'Shotter's Nation' (2007) & 'Sequel To The Prequel'(2013) and two solo albums 'Grace/Wastelands' (2009) and 'Hamburg Demonstrations'(2017).