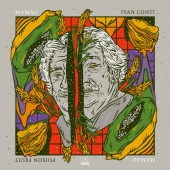 Conti Ivan
Poison Fruit
Label: Far Out
Genre: Freestyle / Nu Jazz / Funk / Afro
From an artist in their seventies, you probably wouldn't expect to hear an album like this. But Brazilian drumming legend Ivan Conti has been experimenting and innovating for the last half a century. As one third of cult Rio jazz-funk trio Azymuth, Conti was at the root of the group's 'samba doido' (crazy samba) philosophy, which warped the traditional samba compass with jazz influences and space age electronics. Even with his lesser known jovem guarda group The Youngsters, Conti was experimenting with tapes and delays to create unique, ahead-of-its-time sounds, way back in the sixties. More recently Conti recorded an album with hip-hop royalty Madlib under the shared moniker 'Jackson Conti'.

With his first album in over twenty years, and the first to be released on vinyl since his 1984 classic The Human Factor, Conti shares his zany carioca character across eleven tracks of rootsy electronic samba and tripped out jazz, beats and dance music. Featuring Alex Malheiros and Kiko Continentino on a number of tracks, the Azymuth lifeblood runs deep, but venturing into the modern discotheque (as Conti would call it), Poison Fruit also experiments with sounds more commonly associated with house and techno, with the help of London based producer Daniel Maunick (aka Dokta Venom) and Mamão's son Thiago Maranhao.

Take a bite of Conti's psychoactive Papaya and join the maestro on a weird and wonderful stroll through the Brazilian jungle.