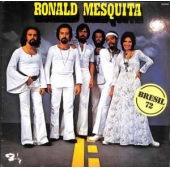 Mesquita Ronald
Bresil 72
Label: Mr Bongo
Genre: Freestyle / Nu Jazz / Funk / Afro
Classic Brazilian album from master drummer, Ronald Mesquita, originally released in 1972. Featuring songs by Jorge Ben, Antonio Carlos-Jobim, Gilberto Gil, Edu Lobo and others.

Mesquita is probably most well-known for playing with Luis Carlos Vinhas and his 'Bossa Tres' outfit, along with his own group, 'Ronie E A Central Do Brasil', that he formed after his return from the US in the early 1970s. He also played on several songs on Tenorio Jr.'s 'Embalo' album that Mr Bongo recently reissued.

The killer track 'Balanca Pema' was very big in the Jazz Dance scene in the 90s and also featured on the Mojo compilation 'Dancefloor Jazz Volume Four'.

Madlib sampled 'Balanca Pema' on his Medicine Show Number 2 'Flight to Brazil'.