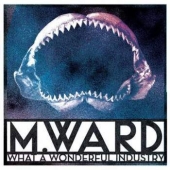 M Ward
What A Wonderful Industry
Label: M Ward Records
Genre: Rock / Pop
Availability
CD Digi / Cardboard €14.49

Dispatched within 5-10 working days
Other Formats
M.Ward releases his ninth solo album, 'What A Wonderful Industry', via M.Ward Records, available on CD and special edition clouded clear vinyl.

Over the last decade Ward has released a string of acclaimed solo albums, as well as six LPs with Zooey Deschanel in the duo She & Him. Ward is also a member of the group Monsters Of Folk alongside My Morning Jacket's Jim James, Bright Eyes' Conor Oberst and Mike Mogis, as well as a producer on albums for Mavis Staples, Jenny Lewis and Carlos Forster.

Via Ward: "This is a record inspired by people in the industry I have known - heroes and villains in equal measure. There's some beautiful moments when you travel for a living, and I'm grateful for being part of an industry that's taken me around the world so many times - but you quickly learn there's a perfectly imperfect balance of coldblooded and warm-blooded animals in the zoo. This record visits the most memorable characters. There's a lot of very inspirational people I've had the pleasure to work with but there are also a few I wish I'd never met. It all tragically ends with an imaginary Griffin Millinspired murder ballad. This album is a reminder to keep your friends close, your enemies closer and don't let the ones that just need an extra couple hours of therapy bring you down. Anyway I hope you like it. All names have been changed to protect the innocent."

Recorded in Portland, OR, the album was produced by M. Ward, engineered by Mike Coykendall and Adam Selzer, mixed by Rob Schnapf and features guest vocals from Jim James.