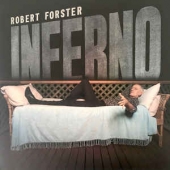 Forster Robert
Inferno
Label: Tapete
Genre: Rock / Pop
Availability
CD Digi / Cardboard €15.49

Dispatched within 5-10 working days
Other Formats
The jungle is coming up to the door,
The birds are calling hard to ignore'

'Inferno' is acclaimed Australian singer-songwriter Robert Forster's first solo album in four years - his second album over the last eleven years. Forster only makes records when he feels he has the songs - on 'Inferno'.

They're from the exhilarating top ten pop of 'Inferno (Brisbane In Summer)', the beach shack groove of 'Life Has Turned A Page', via 'Remain's 1977 New York strut, to finish in a way that this concise, brilliant, drama and filled album only can - on the big build epic 'One Bird In The Sky'.

'Inferno' was made in Berlin in 2018, during the hottest German summer in decades. Noted producer / engineer Victor Van Vugt (Beth Orton's Trailer Park, PJ Harvey's Stories From The City, Stories From The Sea), recorded the album; The first time he and Forster had worked together since Van Vugt engineered Forster's debut solo album classic 'Danger In The Past' in Berlin in 1990.

'Inferno' is a perfect mix of the familiar and the new. So working with Forster again, Brisbane based multi-instrumentalists Scott Bromley and Karin Bãumler from 'Songs To Play' (2015), while new recruits are drummer Earl Havin (Tindersticks, Mary J. Blige) and keyboardist Michael Muhlhaus (Blumfeld, ed ). Four musicians from the corners of the world, who, with Van Vugt's bold and beautiful production, sound like a band of the. In front of them, Forster delivers the best vocal performances of his career

Forster has been busy. He curated the acclaimed, Domino Records released, 'Anthology Volume 1 1978-1984' on his old band The Go-Betweens. His memoir 'Grant & I' was Mojo and Uncut's Book Of The Year. He continues to publish music journalism, play concerts, and never stops writing beautiful songs.