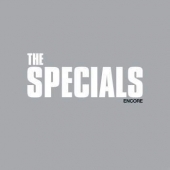 Specials
Encore
Label: Universal
Genre: Freestyle / Nu Jazz / Funk / Afro
Availability
CD x2 €15.99

Dispatched within 5-10 working days
Other Formats
The Specials, one of the most electrifying, influential and important bands of all time, release "Encore", their first new music for 37 years on February 1st. 2019 marks the 40th anniversary of the formation of The Specials and the legendary Two-Tone label in Coventry in 1979, and also marks 10 years since the band reformed to play some of the most vital and joyous live shows in recent memory.

The 10-song "Encore" was produced by Specials founding members Terry Hall, Lynval Golding and Horace Panter alongside Danish musician/producer Torp Larsen and indeed is the first time Hall, Golding & Panter have recorded new material together since the band's 1981 No.1 single Ghost Town.

Limited edition double cd, includes live cd.