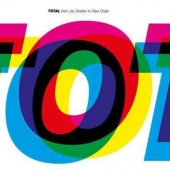 New Order / Joy Division
Total ( From Joy Division To New Order - The Best Of )
Label: Rhino
Genre: 80s Wave / Rock / Pop / Punk
Availability
LP x2 180gr €23.99

In Stock
New Order are proud to announce the release of TOTAL from Joy Division to New Order on vinyl. Originally released in June 2011 on CD, TOTAL from Joy Division to New Order will be available on vinyl for the very first time on 30th November 2018.

Featuring single versions of tracks from both Joy Division and New Order mastered for vinyl by Frank Arkwright from his 2011 remasters. The iconic album cover was created by Howard Wakefield with art direction from Peter Saville.

TOTAL contains New Order's UK Top 10 singles Blue Monday, True Faith, Regret and the Number 1 single World in Motion along with classic Joy Division tracks Love Will Tell Us Apart, Transmission, She's Lost Control and Atmosphere.