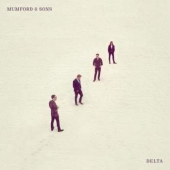 Mumford & Sons
Delta
Label: Island
Genre: Rock / Pop
Availability
CD Digi / Cardboard €16.49

Dispatched within 5-10 working days
Other Formats
Since the release of Wilder Mind in May 2015, and the collaborative Johannesburg EP in the Summer of 2016, Mumford & Sons have found a rich, prolific vein of form in the writing for "Delta". Where Wilder Mind harnessed a widescreen electric sound that seemed custom built to be belted back to them from the festival main stages, "Delta" loses none of that sense of scale, but couples it with an intimacy and jubilance that has so successfully combined to make Mumford & Sons one of the biggest bands of recent years. Guiding Light is the perfect example of that – a dizzying folk-rock song that builds, builds, explodes and then explodes again. An emphatic return.

"Delta" is a record of differing shades, colours and textures. A record that finds Mumford & Sons, no longer young lads caught in a whirlwind, exploring that sense of adulthood and responsibility that comes of turning thirty and revaluating priorities. It's a tender listen, introspective and reflective but is married with those ecstatic stadium-sized dynamics. It sounds like a career-defining body of work.

2019 welcomes the tenth anniversary since debut album Sigh No More's release. It's a record that lit the fuse on what has become an incredible decade for the band, littered with highlight upon highlight. Yet for all the awards they've since won across the globe, and the multiple numbers one records notched up in a variety of different countries, it's taking their songs out on the road that continues to define them. The announcement of "Delta" coincides with a huge sixty-one date arena tour, kicking off in November. Full dates are listed below.

"Delta" is a substantial, exciting record by a British band in the form of their lives.

Deluxe edition, includes 3 bonus tracks.